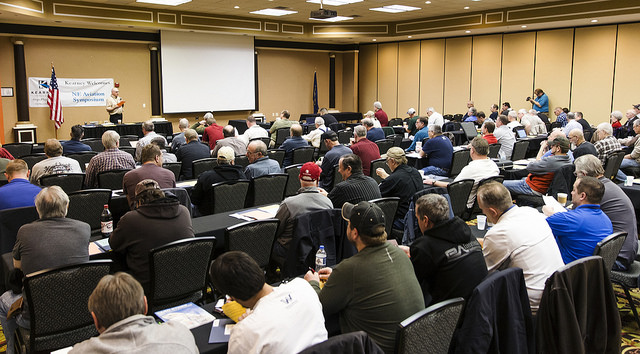 January 25-26, 2019
Details will be available later this fall.
Providing resources to Aviation Maintenance Technicians for recurrent training and professional development.
In cooperation with:
The Nebraska Aviation Council
The Nebraska Aviation Maintenance Seminar Planning Committee
NDOT Division of Aeronautics
The many presenters, exhibitors and sponsors for this event
*This seminar provides a means for FAA Inspection Authorization "IA" Renewal through completion of appropriate sections of this seminar.
AEROX
Oxygen Safety and Component Maintenance
Crew O2 Mask Inspections
John Barone - Manager Business Development - Aerox
Bonita Springs, Florida
Phone:   716.560.7596
Email:  jbarone@aerox.com
Central Cylinder Service
Power-plant Field Inspection/Repair Review
David Czarnecki, General Manager - Central Cylinder Service Inc.
Omaha, NE 68110
Phone: 402-451-6468
Email: CCS@centralcylinder.com
Champion Aerospace
Champion Aerospace Spark plugs
Champion Ignition System Updates
Joe Logie - Champion Slick Technical Support Manager.
Liberty, SC 29657
Phone: 904-772-1909
Email: joelogie@champaero.com
Duncan Aviation
Compass systems - Theory, Operation and Diagnostics
Curt Campbell, Avionics Tech Rep – Duncan Aviation
Lincoln, NE
Office: 402.479.4220
Email: Curt.Campbell@DuncanAviation.com
Duncan Aviation
FAA Transformation - Overview
P.Mike Chick Jr. Certification Manager & ODA Administrator – Duncan Aviation
Lincoln, NE
Office: 402.479.1536
Email: mike.chick@duncanaviation.com
Henkel Corporation – Loctite
Thread-lockers and Anti Seize - Loctite Technology and Product Usage
Marcus Kloepping - Henkel Corporation - Senior Reliability Specialist
Cozad, NE 69130
Phone: 515-326-0209
Email: marcus.kloepping@henkel.com
Lee Aerospace
Aircraft Window Inspection and Maintenance
Gary Niemann - Certified Window Technician/Inspector
Wichita, KS  67226
Phone: (316) 636-9200
Email: gniemann@leeaerospace.com
Snap-On Industrial
Snap on: Torque Procedures
Brandon Homman - Snap-On Industrial- Education Division
Phone: 307-760-7736
Email: Brandon.P.Homan@snapon.com
Website: http://education.snapon.com
Maintenance Seminar Exhibitors
Coming Soon..
NAS and NAMS Scholarship Program 2018
Purpose: To provide a one-time scholarship to eligible students to pursue educational and enrichment activities offered by the annual Nebraska Aviation Symposium and Aviation Maintenance & IA Renewal Seminar.
Award: Scholarships will be awarded to students selected by the NAS and NAMS Scholarship Committee. The award will be used by selected recipients to cover full registration fees for either the Nebraska Aviation Symposium or the Nebraska Aviation Maintenance and IA Renewal Seminar.